iDVD.ca - Download the latest & greatest DVD Movie Copy Software including: DVD X Copy, DVD X Copy XPRESS, EZ DVD Maker Combo, Super DVD Ripper and DVD X Copy Gold!  Also learn about DVD Burner hardware, DVD discs, and the DVD format!
---
---
Working with an international software distributor, we are giving you the opportunity to purchase a copy of DVDXCopy Platinum. This version still includes the "ripper" so it lets you backup copy protected DVD movies all within 1 program. You will not have to download any other software to make this version work. This software was purchased prior to the US court ruling to resell a limited number of licenses from 321 Studios.  Although 321 Studios is not allowed to sell or distribute this software, distributors and resellers are and 321 Studios will activate and support this software... guaranteed or you get a full refund. You won't find this offer anywhere else and will only be available until the few remaining copies of DVD X Copy Platinum with DVD ripper have been sold. If you are interested, buy now!
If you're not completely happy with your purchase, anytime within 90 days of purchase, contact [email protected], for a full, no-hassle, refund.
---

DVD X Copy Platinum combines the speed, ease of use and one-click convenience of DVD X Copy Platinum, with brand new TDF technology. Satisfies even the most critical movie fan who wants total control and a perfect quality backup!
DVD X Copy Platinum is the first movie backup software that can satisfy even the most critical fan. With DVD X Copy Platinum YOU are in TOTAL CONTROL of your movie backup. Most DVD movies are written on dual layer DVDs – but recordable DVDs are only single-layer. In order to backup an entire movie, some elements must be compressed to make it fit. But this results in quality that isn't good enough for the most demanding movie buff.
Best of all, DVD X Copy Platinum can fit your DVD movie on to just one blank DVD disc. No longer are you forced to split DVD movies across two discs.
New TDF technology makes the perfect backup possible.  With 321 Studio's breakthrough new TDF compression technology you can completely customize the compression of each scene.
WE HAVE ONLY A FEW OF THE ORIGINAL DVD X COPY PLATINUM PACKAGES TO SELL! ONCE WE RUN OUT, IT'S GONE FOREVER! HURRY, IT WON'T LAST!
Now you can burn that same movie with crystal clarity in every scene – and you decide what scenes to compress and what not to. In fact, DVD X Platinum comes with a unique preview feature so you can see how various compression percentages will look before you burn!

Supports DVD-R, DVD-RW, DVD+R, DVD+RW drives and discs!
+Buy DVD X Copy Platinum Now!+
Best of all, DVD X Copy Platinum® can fit your DVD movie on to just one blank DVD disc. No longer are you forced to split DVD movies across two discs.
DVD movie burning just got a whole lot more powerful with DVD X Copy Platinum.  Don't miss out on this special opportunity.

Backing up your DVD movies makes you a smart consumer! In today's world DVD movies are extremely sensitive to damage. In a recent study 312 Studios asked 1,600 DVD owners how they lose their DVD movies and here's what they said: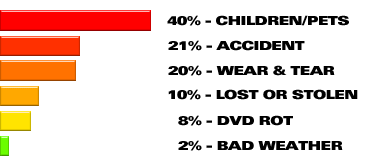 Source: 321 Studios
 
---